FREE FLV to MP3 Converter
VideoSlurp Flv to MP3 Converter is a free tool to convert FLV video files (the video files you can download from YouTube) to MP3 files. Basically it extracts the audio and music from the video files and saves it to a MP3 file that can be played with Windows Media Player or Winamp, or that you can upload to your portable MP3 Player.
With just a few clicks, you can convert a bunch of Flv files to MP3 files at a high speed.
FLV to MP3 Converter has a simple and friendly interface which makes the program very easy to use.
Videoslurp FLV to Mp3 is a freeware WIndows' software. Download and install it from here:
FLV to MP3 Download - Version 1.0
>>> DOWNLOAD NOW <<<
If you need help about how to use FLV to MP3, please read FLV to MP3 Manual.
Anyway FLV to MP3 is a very easy to use program. Basically all you need is to download FLV videos from YouTube or from your preferred video site, run FLV to MP3 Converter and let it extract from the FLV file the MP3 audio.
Screenshot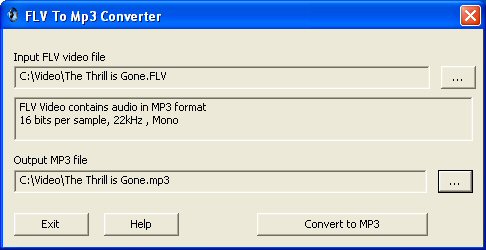 Download Videos From YouTube
Need help about downloading videos from YouTube?
Download VideoSlurp YouTube Downloader: it is a very simple software that allows you to browse YouTube web site and download all the videos you want with just one click!